Marakura Deluxe Motel
- Motel.
Boasting a garden, BBQ facilities and views of lake, Marakura Deluxe Motel is set in Te Anau, 500 metres from Fiordland...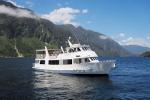 Fiordland Expeditions Overnight and Extended Cruises
- Overnight Cruise - Doubtful Sound.
Starting from NZ $450 per person
.
Pack your overnight bag now and join us on a jaw-dropping cruise on Doubtful Sound. "Paradise" is never far from our...
Advertising with Doubtful-Sound.NZ.com
Do you want to promote your Doubtful Sound business locally, nationally and internationally? Advertise with us and your business will feature on Doubtful-Sound.NZ.com and on other NZ.com websites.
About NZ.com
Doubtful-Sound.NZ.com is part of the New Zealand on the Web group of websites, which aims to provide a comprehensive and current source of information to Kiwis and visitors from around the world. NZ.com has a monthly audience of between 120,000 and 200,000 unique visitors, about half of whom are from outside of New Zealand.
A large percentage of these visitors are making buying decisions. Our national Tours and Activities directory (which your advertising will feature on) attracts an audience of between 6,000 and 11,000 unique visitors per month.
Your local website Doubtful-Sound.NZ.com attracts an audience of between 300 and 1,300 unique visitors every month. Visitors come from Google searches where NZ.com ranks highly, and other NZ.com websites. To find out more see our About Doubtful-Sound.NZ.com page.
NZ.com visitors are actively looking for services. Our "click through" rates - and booking reports from our clients - show significant business being driven through to NZ.com clients from our websites.
Read more about:
Our directory services provide a cost-effective method to appear on NZ.com websites on an annual basis. For one price you get Small Ads (seen in the top right hand side of this page), Directory Ads and a full page listing. An example Directory Ad is shown below. Choose from the business types below to find out more:
Pricing for this service is typically $300 to $1,000 for a 12 month period.
Your information will always be present on our websites across the advertising period.
An Example Directory Ad: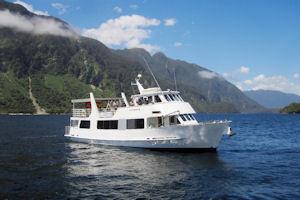 Overnight Cruise - Doubtful Sound - Starting from NZ $450 per person

Your Doubtful Sound overnight cruise will leave you in complete awe of the outstanding views of untouched beauty, wildlife and the serenity of your experience. Includes a freshly caught and prepared seafood dinner, fishing, kayaking and transfers to and from Manapouri or Te Anau. More...
---
Are you wanting to advertise a Doubtful Sound event? Advertising events on Doubtful-Sound.NZ.com is free and your events will also appear on our national events directory and other national websites.

Doubtful-Sound.NZ.com publishes events from EventFinda. All you need to do to list your event on NZ.com is list your event with EventFinda (which is also free). Your event will then automatically appear our events directory, Events.NZ.com in the correct categories, location and date. It will also appear in the newspaper websites, NZ Herald and Stuff; and, of course, EventFinda.co.nz.
If you are looking for one of the following:
To advertise a Doubtful Sound business that does not fit in our directories
For more visibility than our directory services
For a personally customised advertising service
Our premium marketing service allows you to target all Doubtful Sound pages on NZ.com websites for one or more weeks.
You can choose from three of the standard advertisement sizes in four different positions on our pages:
Ad Type
Ad Size
(width x height)
Position
Banner
468 x 60
Top of Page
Premium Rectange
300 x 250
Right Hand Side
(under Tours and Activities)
Secondary Rectange
300 x 250
Right Hand Side
(under Primary Rectangle)
Sky Scraper
160 x 600
Right Hand Side
(under Tours and Activities)
Pricing for this service varies according to the exposure provided. The minimum investment is $1,000.
Premium Marketing Ads positioning and exposure is planned and guaranteed on NZ.com websites.
Contact us for more information.
We use Google's AdWords service to run complementary advertisements under our Accommodation and Tours and Activities ads.
To use Google AdWords to target advertising on pages about Doubtful Sound, you can use the keyword "Doubtful Sound" and target "nz.com" to get your ads showing on Doubtful-Sound.NZ.com and on Doubtful Sound pages on our other NZ.com websites. Your ads can also be shown on other websites that support Google Ads and on Google Searches relating to Doubtful Sound.
Google has a pay-per-click revenue model where you pay only if your ad is clicked on. Google shares the revenue with the websites that they work with.
NZ.com runs between one and three blocks of Google ads. These are usually 300 x 250 pixels (width x height) - we use 250 x 250 ads for viewers with smaller screen sizes. Google ads can be either "images or text" or "text-only". Examples (selected by Google) of these at 300 x 250 pixels are shown below.
You set a budget and experiment with pricing. Your budget could be $20 per month or $2,000 per day. Each time a page is shown, you compete with other advertisers for the space available.
Google Ads positioning and exposure is not guaranteed on NZ.com websites.
To advertise with Google AdWords, or to learn more, see Google AdWords.
Signing on with NZ.com is always an easy choice as the helpful newsletters, personalised service and quality traffic analysis means we can see how our advertising spend is performing - a rare but wonderful thing!"
Duncan Spear
Marketing & Operations Manager
Puzzling World
Wanaka

November 2014
"A brief and well written newsletter of interesting tourism news comes with the monthly statistics that are clear and easy to understand with Ad Impressions, Listing Views and Clicks, perfect! The customer service is excellent, happy to help above and beyond and very quick to resolve any temporary listings issues. I would throughly recommend working with the team at NZ.com."
Ana Brock-Jest
Director
Hooters Vintage & Classic Vehicle Hire
Napier

November 2014

"We have a listing for our company on your website. However, we are in the process of selling our boat, and consequently will be shutting down our charter business in the upcoming few months.

We have very much felt that the relatively small amount that you charge has been by far the most cost effective advertising dollars we have spent, and will be happy to recommend you to any other tourism operators we know in the area."

Les Tubman/Leslie Herring
LTLH Charters, Limited, trading as Anzak Charters
Picton

August 2015